Our Clients & Projects :-
Projects Cleared by Us :-
Escorts Farm Track Division based in Faridabad, Haryana where we cleared the total equipment required to set up the unit. Till date we are still involved in their expansion plans.
Escorts Construction Equipment Ltd.---Infrastructure Equipment such as Cranes, Excavators, Fork Lifts, Tower Cranes, Work Platforms required in the Building and Road Construction Industry
Siemens Ltd.---Initial Set up of Switch Board, Switchgear, Motors Division, Nashik, and Aurangabad. The total Plant and Machinery imported by Siemens was cleared by us and transported to the various plant sites.
KSB Pumps---Set up of various Manufacturing Facilities spread over various locations in Maharashtra, Chennai, and Kerala.
ZF Steering Gear India Ltd.---An OE Manufacturer of Steering Gear. Cleared the complete Plant including Second Hand Machinery which was dismantled in Germany
Hindustan Coca Cola Beverages India Pvt. Ltd.---Over the years we have helped clear goods for various plants all over India. This process involved clearances of initial plant and machinery for bottling plant which is totally automated. As part of Coca Cola's Supply Chain, we have been instrumental in clearing their raw material through out the years meeting their "JIT" (Just In Time Concept)
Emerson Group of Companies---Been associated with this group right from inception. Help set up EOU Units in Pune which included registering of Bonded Warehouses with Central Excise, STPI Authorities and Customs. Clearance of various material's under the EOU Duty Free Scheme
JW Marriot Hotel (Mumbai)--Total Imports for this project starting with the building material, marble floorings, Light Fittings, Carpets, Fire Fighting Equipments, Computers, Furnishing, Kitchen Equipments, Cars, Buses, etc.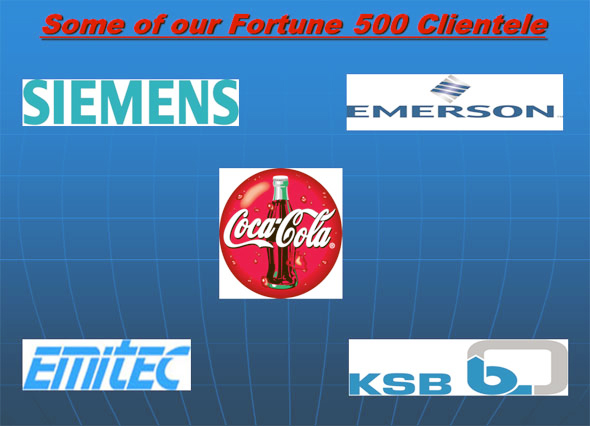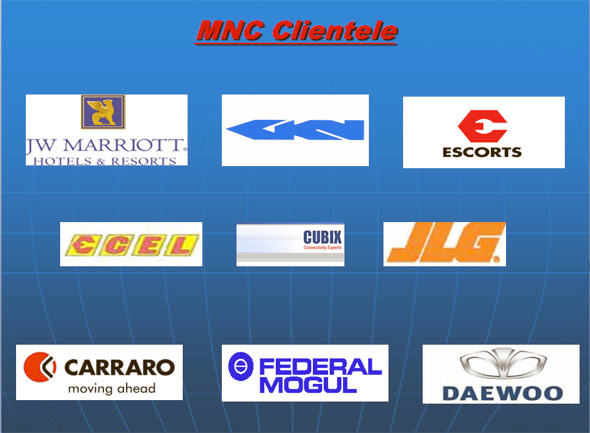 List of Some of our Esteemed Clients :-
HINDUSTAN COCACOLA BEVERAGES PVT LTD.
ESCORTS LTD & ITS ASSOCIATE GROUP COMPANIES
SIEMENS LIMITED & ITS ASSOCIATE CONCERNS
CARRARO INDIA LTD.
INDIAN RAYON LTD.
SOFTWARE TECHNOLOGY PARK.
GKN SINTER PRODUCTS LTD.
K S B PUMPS LTD & ITS ASSOCIATE COMPANIES
INDIAN OXIDES & CHEMICALS LTD.
GABRIEL INDIA LTD.
EMERSON ELECTRIC CO (I) LTD.
RAHEJA GROUP OF COMPANIES (JW Marriot, Sea Side Properties, Queens Construction, and Associated Companies)
INDUS SYSTEMS & SERVICES PVT LTD.
BENZER DESIGN CENTRE PUNE.
QUEENS CONSTRUCTION PVT LTD.
SPICA ELASTIC LTD.
EMITEC Emission Control Technologies India Pvt Ltd.